On August 30th, August 31st and September 1st we had a WordCamp in Nijmegen in the Netherlands. It is an ideal opportunity for the Dutch WordPress community to meet and exchange ideas.
This is the third part of my report about my experiences, again decorated with the beautiful cartoons by @StudioMIK. Also read part 1 and part 2.
Sunday September 1st
First I visited the stalls of the sponsors.
I started at Yoast, where I picked up a copy of Yoast Magazine.
After that I went to Savvii, where they explained the advantages of their specialized WordPress hosting again. As a bonus I got a fun sticker.
At the Level Level stall I found some beautiful postcards with tips about #a11y = accessibility (for people with a disability). They have seven different versions of those, each one for a different kind of disability. They immediately gave me a small stack with one of each. Tips about accessibility are useful for every website, because they make your site more usable for people without a disability as well, and for Google, so it improves your SEO!
At the Plesk stall @CaroleOlinger asked me whether I had "something with socks". "I wear them", I admitted quietly. Fortunate she did not hold that against me and she handed me a pair of #ElvisPlesky socks.
Of course I also visited the MultiLingualPress stall. After all, multi-language websites are one of my favorite subjects. I learned there that you can download version 2 of MLP for free, so that you can give this plugin a try. I have put that on my TODO list…
How it all started: Pay It Forward with WordPress
The first talk I went to see was by Paula van Gestel, @Paula_vG. She had a very personal story. At first sight one would think that something like that is not suitable for a WordCamp, but it certainly was.
The central theme was Pay It Forward. That means people provide a service, without getting paid for it. But the restriction is, that the person who benefits from the service, has to go provide services to others under the same conditions. In the end, this is beneficial to everyone involved… And that is how it fits in with the WordPress Open Source philosophy. She gave some very good examples of that.
Read more: https://www.payitforwardfoundation.org/
An analysis of the under-exposed risks caused by information leaks in WordPress
Niels the Blaauw, @NdeBlaauw, told us about an investigation he had done in 66,000 of the largest WordPress-sites. He didn't need to get out of his chair to do that, because the REST-API allows you to pilfer lots of information from WordPress sites.
I was truly shocked by the amount of information you can harvest in this way. Isn't it odd that we are advised to shut down the XML-RPC interface of our websites, while the REST-API offers similar possibilities?
Of course I have asked if we could shut down that scary REST-API in our sites. And it turns out we can. Up to WordPress version 4.7 were there even built-in filters which allowed you to do that, but nowadays we can still do it using a plugin like Disable REST API.
What linguists can do for your SEO
Two talks were about language. Of course I wanted to see those. The first one was presented by Irene Strikkers, @IreneStrikkers from Yoast.
I was astonished to learn how many linguists are already employed at Yoast. But it is a very good idea for Yoast to make use of their knowledge, in particular for the ever-improving text analysis in the Yoast SEO plugin.
The text analysis does not work equally well in all languages. So I was correct to point out to my students who build Turkish websites that they should experiment with different versions of their keywords as a focus keyword. "su" means "water" in Turkish, but Yoast SEO has no idea that "suda" means "in the water" and "sudan" means "from the water".
They are continuously working on this kind of stuff, more and more languages are supported in that way. Unfortunately I hadn't been able to find out which languages are supported and which are not… Until Irene told me: the supported features for each language can be found in the Yoast knowledge base. But the user interface of the Yoast SEO plugin has been translated into all languages, and that is a very good start already.
Read more:
http://bit.ly/b1schrijftips
http://bit.ly/leesbaarheidrankt
http://bit.ly/leesbaarheidsanalyse
http://bit.ly/tekststructuur
http://bit.ly/hoelezersscannen
http://bit.ly/copywritingcursus
http://bit.ly/writeplainenglish
Copywriting: how to make the visitors on your website read on
The second linguist who spoke to us was NinaRosa Juffermans. And she certainly managed to make us listen on. Her talk was not just about language, but about marketing as well. Because that is what copywriting is: writing to convince your target audience.
And all the standard tips about writing good English (or Dutch) apply here. Very nice to see there still are young people who are careful to avoid mistakes in spelling and grammar!
When she was explaining what copywriting is, she made use of Mentimeter (www.mentimeter.com), an interactive online tool that allows the people in your audience to enter words on their phones that become visible on screen in a kind of tag cloud.
She had tips for how to focus on your target audience, but also clear examples of common mistakes, and how to avoid those.
Read more: www.ninarosadenkfabriek.nl
Mike's Personal Branding Workshop
Just like the day before, I wanted to do some work, and again it was on a subject I do not have a natural talent for: Personal Branding.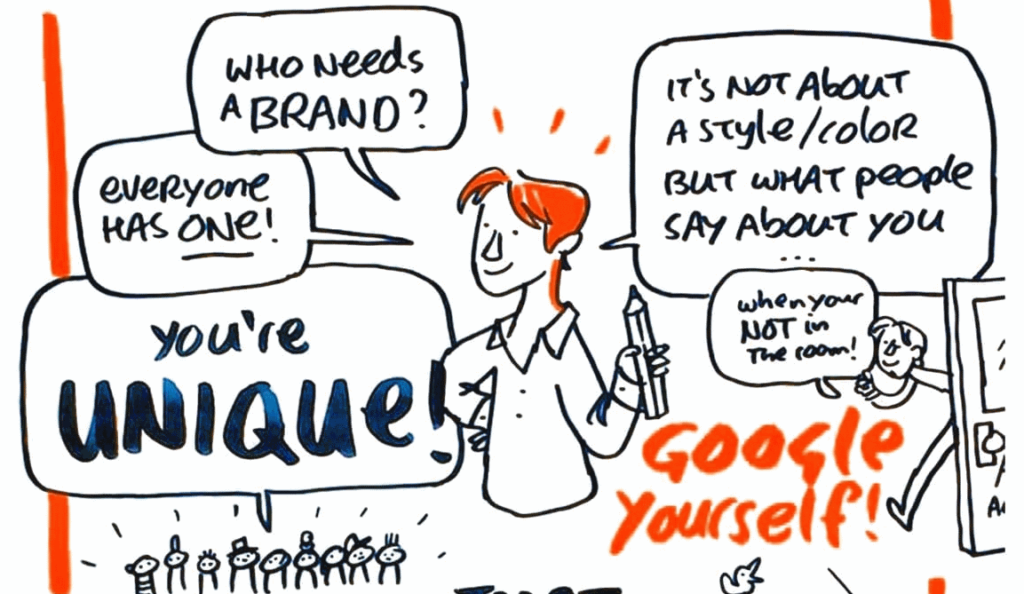 Mike Rynart, @MikeRynart, explained how a strong personal brand can help you to reach more clients, get a clear picture of your target audience, and make a compelling message for them.
Why do you need that? And how do you make a simple message, that people understand? And what should you put on your website? I may not be a star in selling myself, but I do find these kinds of workshops inspiring. And if I happen to learn something useful… Even better!
Again we were confronted with Sinek's "Start with Why". It is a story many gurus and coaches keep falling back to. And the first time I heard of it, I was enthusiastic too, but I my doubts are getting bigger and bigger.
Why do you do business? The honest answer is of course that you need an income to sustain yourself and your family, but that is not what Sinek wants to hear. You will have to come up with a loftier goal.
Of course I would like to be working on things that are beneficial to humanity all the time, but if that means I have nothing to eat and cannot pay my mortgage, that philanthropic goal would not be reached either.
There was a lot of attention for Instagram in this workshop, a social medium I have fortunately been able to avoid so far. But it was interesting to hear more about it
Read more: https://mikerynart.com/
0.6 seconds is the new slow
The final keynote at this WordCamp was presented by Jono Alderson, @jonoalderson. Jono is a digital strategist, marketing technologist and full-stack developer with more than ten years of experience in SEO, analytics, brand and campaign strategy etcetera…
People who were hoping to sit back and relax during this final talk, reflecting on everything they had learned in the past few days, were out of luck! Jono's story was about website speed. And, completely in style, he spoke extremely fast, and slide after slide was projected in a quick succession. If nothing else, it was enjoyable as a great theatrical performance.
But in the meantime, he was getting his message across, at least I hope I understood him correctly: There is not one thing that you can do to magically speed up your website. On the contrary: there are hundreds of small things you can do, and they all contribute to the final result. It is important to use tools to measure what really happens when your pages are being loaded. Once you know that, you can optimize the parts that make the greatest difference.
Read more: https://www.jonoalderson.com/
This post is also available in: Dutch